Harry Potter Spells Tag
Hey guys, today I'll be doing the HARRY POTTER SPELLS TAG. This tag was created by TrulySympathy on Youtube and I thought it'd be fun to do and who doesn't love Harry Potter?
There are 10 spells and a question associated with each. Lets do it.
A childhood book connected to childhood memories.
I owned this book and I used to read it religiously. Angela Anaconda always made me laugh. It was a TV show too and I remember sitting down in front of the TV every other day, eager to watch Angela's next adventure.
Angela Anaconda is an eight year old girl with freckles all over her face and short auburn hair who leads a strange and funny life. It tells the story of her and her three best friends they survive school and situations of bad luck. Angela also rivals against a snobbish faux French girl named Nanette and manipulative teacher named Mrs. Brinks.
A book that took you by surprise.
When I first started reading I had NO idea that it was going to be so good. I had heard good reviews but didn't realise that it was going to be the strange, mysterious and beautiful book that it is.
Ever since she was young, Blue Sargent has known that she will kill her true love with a kiss. St. Mark's Eve is when the soon-to-be-dead walk past and Blue is never able to see them until this year. She sees a boy, a Raven boy, named Gansey.
She befriends Gansey and his best friends Adam, Noah and Ronan under unlikely circumstances and together they search for the Sleeping Kings. A legend Gansey wholeheartedly believes is true. During the search, Blue will finally understand the danger of her fate and discover new truths about the world are both strange and sinister. Now she must guard her heart more strongly than before.
The characters of the book were just amazing and all loveable and Maggie Steifvater's writing style was so beautiful and refreshing to read.
I'm re-reading The Raven Boys at the moment so expect a review soon.
I was also torn between The Raven Boys and The Night Circus, so I'll put it in for good measure.
I definitely forgot how much I missed ready J.K. Rowling's Harry Potter novel's until I finished the Cursed Child
I didn't love it but I also didn't hate it. My thoughts will appear somewhere on this blog at some point.
The book is in the form of a play, so it's quite different but still managed to be as enjoyable as the other novels.
Years after the final battle of Hogwarts, Albus Potter, Harry's youngest son finally attends Hogwarts but it isn't all chocolate frogs and quidditch games. Albus struggles with the weight of his fathers legacy and makes a big decision to do something that will fix his problem.
Fusing the past and present, Albus and his friend Scorpious embark on a journey through time where learn that darkness cannot always be escaped and can turn up in the most unexpected of places.
A book that introduced you to a genre you had not considered before.
Before I read The Hunger Games, I don't even think I knew what the Dystopian genre was. The idea of an imaginary society that was different and often dehumanising was refreshing and intrigued me immensely. I've kind of grown out of the genre now and have grown tired of its recurrence in young adult novels. Nevertheless, I do still enjoy them when I come across a good one and with the Hunger Games, I wouldn't have ventured into the genre.
I don't think I need to explain the plot but here is a quick run down. The nation of Panem holds an annual Hunger Games in which two children from each of the 12 districts fight to the death.
When Katniss Everdeen's sister is chosen this year and she immediately volunteers in her place. Katniss must learn to survive now and go against people who have trained for this moment their whole lives. Will she outlive her death sentence?
A funny book you've read.
Cassandra Clare never fails to make me laugh, even with such a deep story like Lady Midnight. There is something about witty remarks and dry humour that often makes me laugh for five minutes straight when I'm reading CC's books.
Lady Midnight is about Emma Carstairs and her investigation of her parents strange death. Along with Her Parabatai - best friend, partner in battle - Julian Blackthorn, she unravels a secret that reveals a world of death and dark magic. Emma also unravels some new secrets. What has Julian been hiding from her? Why are Parabatai forbidden to fall in love? Is she ready to find out who killed her parents?
You can read my review here.
A book you think everybody should know about.
I think everybody already knows about A Court of Thorns and Roses, but nevertheless, I'd just like to reinforce the sheer amazingness of this book.
Sarah J. Maas weaves fantasy, danger and romance in this compelling and beautiful novel that is a loose retelling of Beauty and the Beast
It tells the story of nineteen year old Feyre who, after killing killing a faerie is dragged into their magical land to serve a sentence with her captor, Tamlin.
Whilst in the other world, Feyre begins to develop feeling for her captor who isn't the dark and treacherous faerie she perceived him to be. But an evil lives in the faerie world, threatening Feyre and she must find a way to stop it, before Tamlin's world is turned upside down.
I recently finished this book and it's sequel A Court of Mist and Fury, and absolutely adored it. Maas just writes with such ease and intrigue, it's a crime if you don't read this.
A book or spoiler you would like to forget having read.
I read We All Looked by Tommy Wallach recently and if I could get back the time it took me, I would. I found the book boring and dragging and it wasn't that bad, but I could have been reading something that I enjoyed.
It's about four teens, Eliza, Andy, Anita and Peter who all don't hang out with each other and then under special circumstances become entwined in each others lives. They find out an asteroid is about to come down and end Earth's lives so they all decide to finally live.
It was another of those books with a great ideas but is executed poorly. Unfortunately, this book was a miss for me.
A book you have read for school.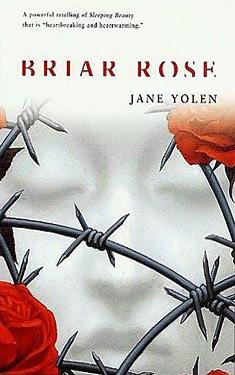 I had to read Briar Rose by Jane Yolen when I was in year 7 and learning about archetypal themes in literature and I actually really enjoyed it.
It's a loose retelling of the Sleeping Beauty and a compelling and mystical read.
Rebecca's grandmother has always claimed that she was Briar Rose, the princess from the fairy tale, since she can remember. After Gemma dies, Rebecca makes a promise that will begin her journey to uncover the truth about her grandmother. On that journey, she will discover pain, suffering and horror but also love and survival.
Briar Rose is also about the Holocaust, and the reader can travel through past and present to help unravel Gemma's inheritance along with Rebecca.
Honestly, I was never the biggest fan of the Divergent series by Veronica Roth, and after I read Insurgent, I thought perhaps I was changing my mind, and then I read Allegiant.
I hated it the whole way through, especially the dual point of views, plot holes and overly scientific explanations.
In the third novel, Tris' life is shattered again when she learns about the world beyond the fence. New discoveries unravel new truths that throw the balance of what she believed and changes the hearts of those she loved.
Tris must battle the people who want her dead again and this time she is faced with more impossible choices and sacrifices than before.
I didn't enjoy one moment of this whole book and it definitely was painful to read. Even that predictable ending.
10. AVADA KEDAVRA
I wasn't sure how to interpret 'a book that could kill' but I decided to go this way, with Clockwork Princess. Anyone who has read this will immediately know what I mean when I say it could kill you. I still haven't gotten over the epilogue.
Clockwork Princess is the third and final instalment in Cassandra Clare's trilogy The Infernal Devices and follows Tessa as she is once again faced with danger, loss, love, betrayal and secrets.
Mortmain plans to use his Infernal Devices, an army of pitiless automatons, to destroy the Shadowhunters. He needs only one last item to complete his plan: Tessa Gray.
But when Mortmain abducts Tessa, the boys who lay equal claim to her heart, Jem and Will, will do anything to save her. For even though Tessa and Jem are now engaged, Will is as much in love with her as ever.
As those who love Tessa rally to rescue her from Mortmain's clutches, Tessa realises that the only person who can save her is herself.
Read my full review of Clockwork Princess
here
.
So that's the Harry Potter Spells Tag. What books would you answer with?