My Most Anticipated for December 2015
Here are six upcoming releases for December this year that I'm looking forward to getting my hands on along with the synopsis' and book covers.
This Raging Light by Estelle Laure
So I recently reviewed this, which you can find here, but I am looking forward for it to come out so every one else can read it too. I really enjoyed this book and I plan to buy the published copy for myself when it is released this month.
Can the best thing happen at the worst time?
Her dad went crazy. Her mom left town. She has bills to pay and a little sister to look after. Now is not the time for level-headed seventeen-year-old Lucille to fall in love. But love—messy, inconvenient love—is what she's about to experience when she falls for Digby Jones, her best friend's brother. With blazing longing that builds to a fever pitch, Estelle Laure's soulful debut will keep readers hooked and hoping until the very last page.
Hellraisers by Alexander Gordon Smith
Horror. Fantasy. Thriller. YES. I am looking forward to this new series called The Devil's Engine - and the first book is coming back this month.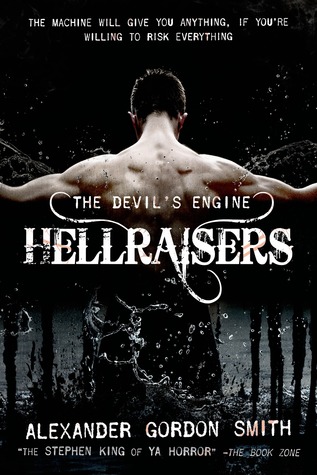 There is a machine from the darkest parts of history, concealed in an impossible location, that can make any wish come true, and the only price you have to pay is your soul. Known as the Devil's Engine, this device powers a brutal war between good and evil that will decide the fate of every living thing on Earth. When a 16-year-old asthmatic kid named Marlow Green unwittingly rescues an ass-kicking secret soldier from a demonic attack in the middle of his Staten Island neighborhood, he finds himself following her into a centuries-old conflict between a group of mysterious protectors and the legions of the Devil himself. Faced with superpowers, monsters, machine guns, and a lot worse, Marlow knows it's going to be a breathless ride—and not just because he's lost his inhaler along the way.
Thicker Than Water by Brigid Kemmerer
A book about kids figuring murder mysteries with a twist of romance. *Clapping excitedly*
On his own

Thomas Bellweather hasn't been in town long. Just long enough for his newlywed mother to be murdered, and for his new stepdad's cop colleagues to decide Thomas is the primary suspect.

Not that there's any evidence. But before Thomas got to Garretts Mill there had just been one other murder in twenty years.

The only person who believes him is Charlotte Rooker, little sister to three cops and, with her soft hands and sweet curves, straight-up dangerous to Thomas. Her best friend was the other murder vic. And she'd like a couple answers.

Answers that could get them both killed, and reveal a truth Thomas would die to keep hidden…
Their Fractured Light by Amie Kaufman
I haven't read the first two books in this series but I'm interested in them and I am considering reading this series (and look at how gorgeous the cover is). We'll have to see, but here is the synopsis.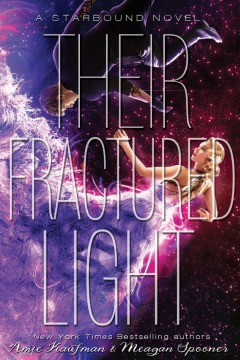 A year ago, Flynn Cormac and Jubilee Chase made the now infamous Avon Broadcast, calling on the galaxy to witness for their planet, and protect them from destruction. Some say Flynn's a madman, others whisper about conspiracies. Nobody knows the truth. A year before that, Tarver Merendsen and Lilac LaRoux were rescued from a terrible shipwreck—now, they live a public life in front of the cameras, and a secret life away from the world's gaze.
Now, in the center of the universe on the planet of Corinth, all four are about to collide with two new players, who will bring the fight against LaRoux Industries to a head. Gideon Marchant is an eighteen-year-old computer hacker—a whiz kid and an urban warrior. He'll climb, abseil and worm his way past the best security measures to pull off onsite hacks that others don't dare touch.
Sofia Quinn has a killer smile, and by the time you're done noticing it, she's got you offering up your wallet, your car, and anything else she desires. She holds LaRoux Industries responsible for the mysterious death of her father and is out for revenge at any cost.
When a LaRoux Industries security breach interrupts Gideon and Sofia's separate attempts to infiltrate their headquarters, they're forced to work together to escape. Each of them has their own reason for wanting to take down LaRoux Industries, and neither trusts the other. But working together might be the best chance they have to expose the secrets LRI is so desperate to hide.
What's Broken Between Us by Alexis Bass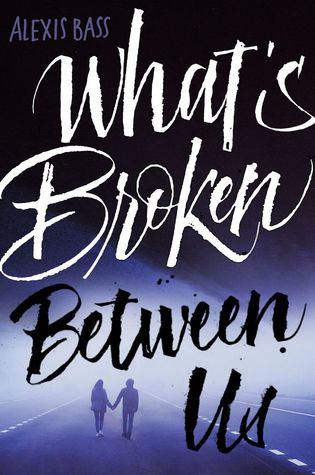 Tragedy, secrets and romance are all what draw's me into this new release and here is the synopsis so you can understand what I mean.
A year and a half ago, Amanda Tart's brother got behind the wheel drunk and killed his best friend. Today, he's coming home from prison.

Amanda's been the one living with the fallout, made worse by her brother's recent unapologetic TV interview. People think he's a monster. Still, she loves him. It's her dark secret, until she starts getting close to Henry again--whose sister is paralyzed from the accident.

A year and a half ago, her brother destroyed his life. Now Amanda has to decide if she'll let his choice destroy hers.
Instructions For The End of the World by Jamie Kain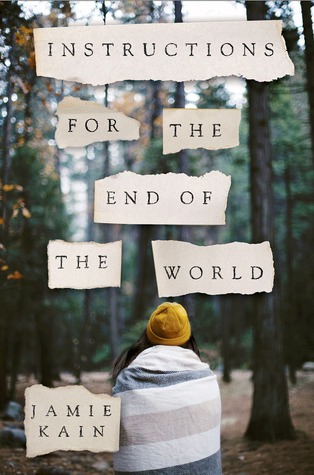 I've been getting into family-oriented/self discovery books lately and this seems like another that I would be interested to read. It also has a 'survival' kind of vibe to it that I really enjoy reading about in books.
He prepared their family for every natural disaster known to man—except for the one that struck.
When Nicole Reed's father forces her family to move to a remote area of the Sierra Foothills, one without any modern conveniences, it's too much too handle for her mother, who abandons them in the middle of the night. Heading out to track her down, Nicole's father leaves her in charge of taking care of the house and her younger sister, Izzy. For a while, Nicole is doing just fine running things on her own. But then the food begins to run out, the pipes crack, and forest fires start slowly inching their way closer every day. Wolf, a handsome boy from the neighboring community, offers to help her when she needs it most, but when she starts to develop feelings for him, feelings she knows she will never be allowed to act on once her father returns, she must make a decision. With her family falling apart, will she choose to continue preparing for tomorrow's disasters, or will she take a chance and really start living for today?